Building on the success of the first Newcomers Dinner hosted by ERJPB in May 2023, a Welcome New Residents Table was present at the Aurora Pumpkin Fest on October 14.  
The table featured an information station, swag bags for newcomer households, and two gift basket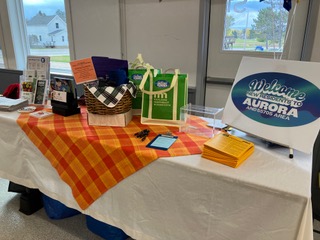 prizes awarded in a prize drawing. The baskets contained five $25 gift cards for Aurora restaurants, a bag of coffee from the Hive, gift cards from Embarrass Vermilion Federal Credit Union and Bradach Lumber, a candy jar from Palo Mutual, a sweatshirt from Rudy's, and more.  
Visitors walked away with swag bags and had the chance to chat with Mary Mulari, an Aurora community member who led this welcoming initiative and was on hand during the event to answer questions and direct people toward regional resources.  
"The donations and support of this project are impressive," shared Mary. "Everyone thought it was a good idea and I had no problem collecting 50 items such as pens, notepads, jar grippers, brochures, and business cards for the bags. I gave the remaining bags to City Hall for distribution to new residents coming in to sign up for utility bills."  
Many thanks to Mary and the businesses that donated to help make this effort possible. Watch for details on our next welcoming event!