Connecting the East Range
Aurora • Biwabik • Hoyt Lakes • Town of White
BLANDIN BROADBAND COMMUNITIES TIMELINE
Thursday June 6th, 10AM – 1130AM, Mesabi Range College
Meeting to continue coordination with Laurentian and Tower BBC groups on the joint feasibility study.
COMMUNITY PROJECTS DEADLINE: To be included in the next round of the Blandin Broadband Community Grants, project teams will need to get concepts to the ERJPB steering committee by Friday, July 26th.
Submit via email to erjpb@frontier.com
Date TBD, 4PM to 6PM, ERJPB Meeting Room, Aurora City Hall
Steering committee meeting to review and select projects. The steering committee includes approximately 10 individuals who signed up for it and attended the initial meeting at the credit union in January 2019, but will gladly accept new members if others wish to volunteer! We should emphasize that this process is designed to be collaborative, not competitive, and we want to include as many good ideas as we can.
FUNDED BBC COMMUNITY PROJECTS TO DATE 
The Broadband team held two project team meetings on March 26 and April 9 to work collaboratively on proposed broadband projects. These meetings produced four projects for submission to Blandin:
Portable training lab for technology training (Sue Sowers & various educational partners)

Total Project = $17,050
Grant = $12,770

East Range Portable Training Lab

This project will aim to develop a Portable Training Lab to provide computer/technology training to individuals and groups in the East Range communities. A portable lab will allow classes to be more accessible to anyone interested in learning, in job searching, or in keeping in touch with family and friends through trainings held in spaces such as libraries, community centers, senior centers, town halls, and other locations.

ERJPB website (ERJPB staff)

Total Project = $10,565
Grant = $6,192

East Range Joint Powers Board Website

This project will enhance ERJPB website, which is currently just a basic landing page, to create a centralized point for community information and help raise awareness around broadband issues on the East Range. It will also give broader visibility to ERJPB's staff, services, mission, vision, and values.

Business retention and expansion visits (ERJPB staff)

Total Project = $17,640
Grant = $13,230

East Range Business Retention and Expansion Visits

Several businesses have expressed concerns about broadband access on the East Range and its implications for economic competitiveness and workforce recruitment, but to date, their engagement with the BBC program has been limited. This targeted business retention and expansion (BRE) effort will solicit business input on their broadband situations (familiarity, use, needs, etc.), seek to engage them in the BBC process, and strengthen the case for greater connectivity on the East Range.

Free wi-fi expansion in public locations in the communities (Pete Senarighi)

Total Project = $3,255
Grant = $1,575

East Range Public WiFi

This project will add or expand wi-fi access at three public locations: the City of Biwabik, the Hoyt Lakes Library, and the Aurora Library. Currently, both libraries have poor placement of wi-fi access points, while Biwabik currently has no public access in the city hall or park/pavilion areas.

The Minnesota Legislature has established clear goals in statute to guide the state's broadband development efforts through the year 2026.
Universal Access and High-Speed Goal
It is a state goal that (1) no later than 2022, all Minnesota businesses and homes have access to high-speed broadband that provides minimum download speeds of at least 25 megabits per second and minimum upload speeds of at least three megabits per second; and (2) no later than 2026, all Minnesota businesses and homes have access to at least one provider of broadband with download speeds of at least 100 megabits per second and upload speeds of at least 20 megabits per second.
FOR ALL BUSINESS-OWNERS/EMPLOYEES, HOME-BASED BUSINESSES, AND COMMUNITY MEMBERS
Broadband has revolutionized business, government, education, work, and lifestyles. Without robust broadband access and fully technologically literate populations, rural communities will be unable to take advantage of the extraordinary benefits that ultra high-speed, next-generation Internet can provide. Since 2003, the Blandin Community Broadband Program has engaged at local, state and federal levels to ignite and sustain policies that support rural access to robust broadband. Guiding this work is a strategy board of public and private leaders to oversee the initiative and a vision.
The Blandin Broadband Communities (BBC) program is an intensive, two-year partnership between rural Minnesota communities (cities, counties, tribes, or other self-identified communities of interest or place) and the foundation. Selected communities work through a proven process to define their technology goals, measure current levels of broadband access and use, and seek technical assistance and resources to meet their goals.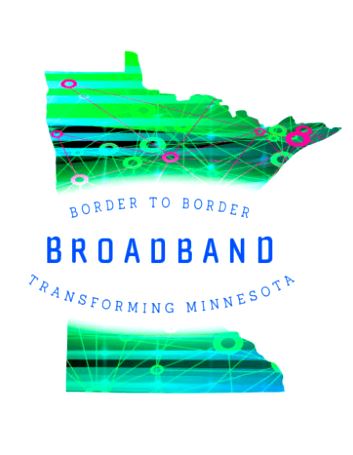 Blandin Broadband Communities (BBC) 
Iron Range Broadband Communities 2019-2020
Made possible with funding support from the Minnesota Department of Iron Range Resources and Rehabilitation (IRRR) and St. Louis County, the Iron Range cohort of Blandin Broadband Communities are located in IRRR's service area: East Range Joint Powers, Laurentian Chamber of Commerce, Tower Economic Development Authority, and Iron Range Tourism Bureau.
Each BBC has the opportunity to apply to Blandin Foundation for matching grants (around $75,000 total) for locally developed projects that advance community identified technology goals over the two-year project period.
Matching funds are available to begin this study to learn what we have, how to access it and what is needed to be able to provide our businesses and residents with access to broadband services.
Sponsors
Thank you for making the grants available to fund projects and provide access in our area.